Expense and budget tracker: mybugetpal
mybudgetpal is a free tool which connects directly to your bank account, to track your spending and plan for the financial future you want. Set up an account today.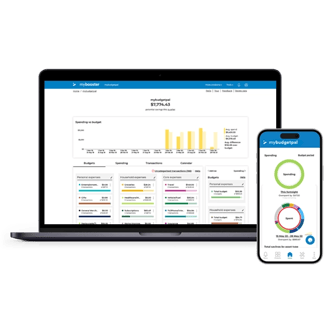 Make sense of your money
Designed and built for Kiwis, mybudgetpal gives you a complete view of your finances. Use each module to set yourself up with the foundations of good money management.
Budgeting made easy
mybudgetpal syncs with your bank accounts and automatically categorises your expenses. So you don't have to spend hours working out what goes where.
Track your spending
mybudgetpal allows you to compare spending over different periods, so you can turn the spotlight on spending habits that need attention.
Set spending limits
Need to start saving for a rainy day? Or planning to buy your first home?
mybudgetpal gives you the tools so you can move towards the future you want.
Get ahead financially
mybudgetpal makes setting up your budget and savings goals easy. It's ideal for Kiwis on the go – giving you dynamic, easy to understand information to help you work out where you are right now, and where you want to go.
Track your spending habits
mybudgetpal will help you improve your spending and saving habits by tracking your expenditure across multiple expense categories. mybudgetpal gives you all the numbers - without judgement.
So you know exactly how much that daily coffee is really costing you.
Categorise your spending
mybudgetpal syncs with your bank accounts every day. It automatically sorts your transactions into expense categories for you, so you can keep an eye on exactly where you're spending your cash.

Turn the spotlight on areas of spending that might need attention.
Build your budget
Start building your budget by setting spending limits for each expense category and track your changing spending habits over time. Review your expenditure regularly to make sure your budget is working for you.

Celebrate the wins and learn from the mistakes.
Budget calendar
Schedule upcoming bills and expenses into mybudgetpal's calendar. Set reminders for bill due dates or upcoming events and put money aside for those special occasions.

Take charge of your life by planning ahead, so you're prepared for life's adventures.
Why is mybudgetpal free?
Everything we do here at Booster comes back to our key focus - helping Kiwis make sense of money.
Initially, we designed mybudgetpal as a budgeting app for our members, to help them understand their money habits and build great money management skills.
But then we thought: why stop there? So, we've opened up mybudgetpal to everyone - Booster member or not - because we know that being on top of your money is key to a great financial future.
And who doesn't want that?