Manage your financial universe with mybooster
mybooster lets you manage your financial universe and track your total wealth by giving you a joined-up view of your bank accounts, investments, property, assets, and debts alongside your KiwiSaver account, mybudgetpal and mymoneymap.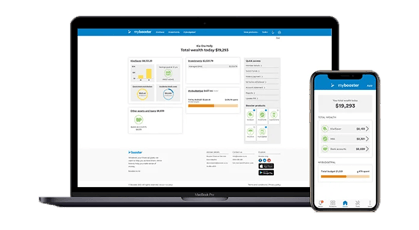 Your financial future
mybooster gives you the tools to build the financial future you want. Create an overview of your financial wellbeing and simplify your money management with exclusive tools and resources.
Total wealth view
Get a total overview of your entire financial universe with mybooster's unique wealth platform.
Bring together your bank accounts, assets, Booster KiwiSaver Scheme account, SuperScheme account, investments, mortgages, loans and debts into one, easy-to-view location.
Your wealth platform
mybooster allows you to manage your Booster account, track your financial universe and improve your financial wellbeing with in-built tools and resources.
Track financial assets
Use mybooster's wealth platform to build the financial future you want. Simply add in all your assets, investments, shares and debts to get a complete picture of your financial universe. Keep track of your personal wealth so you can take steps to improve your financial wellbeing.
Account management
Easily manage your Booster account in mybooster. Keep your personal details up to date, review your KiwiSaver account balance and fund performance, check you're on track to get your full government contribution, update your PIR rate, start your investment portfolio, download annual statements and 1st home buyer documentation.
Set up regular payments
The fastest way to grow your retirement savings is to make regular contributions. You can set up automatic payments for yourself or a family member's KiwiSaver account, or directly into your investment account.

Set up a direct debit in mybooster to reach your savings goals faster.
Switch funds online
Our online switch tool means you can quickly and easily update your KiwiSaver investment funds. Take our Fund selector to work out the right fund for you, then make the switch in just a few minutes.

Your KiwiSaver account, your way.